2022 Most Improved Runner: Kevin MacIsaac
Posted: Feb. 21, 2023
The PEI Roadrunners are pleased to announce the 2022 Most Improved Runner award goes to Kevin MacIsaac.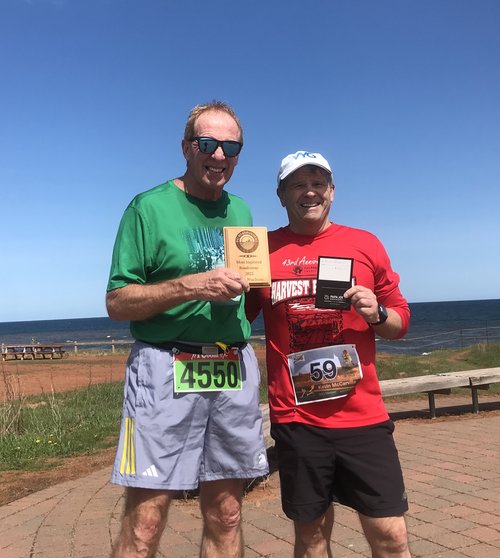 Kevin's running accomplishments over the past several years are remarkable, and even more impressive when considering the stress one would have being the General Manager of the United Potato Growers of Canada in the middle of a potato wart outbreak on PEI as he was edging toward retirement during the COVID pandemic.
Kevin, now comfortably into his 60's finished tied atop the Hashems Points Series in 2022 while achieving 12 top 5 finishes among Roadrunners and made his first Boston Marathon appearance.
In 2019 Kevin ran a 1:27 Desmond Baglole, improving that by 15 minutes in 2022. From 2019 to 2021 Kevin dropped 30 minutes of his Harvest Festival time, finishing in under 2 hours.
Arguably his most impressive improvement was in the 2021 PEI Marathon when Kevin, at the age of 61, lowered his 2017 PEI Marathon time by over 35 minutes, finishing in 3 hours and 24 minutes.
A candidate for several awards this year, we felt it was only proper to recognize the significant improvement Kevin has achieved. Clearly, a testament to his commitment, work ethic and the mental toughness it requires to achieve these results.
Congratulations Kevin!
There are no comments yet.
Log in to comment