2022 Male Roadrunner of the Year: Alex Bain
Posted: March 28, 2023
The PEI Roadrunner Executive is pleased to announce that Alex Bain has been selected as the 2022 Male Roadrunner of the year.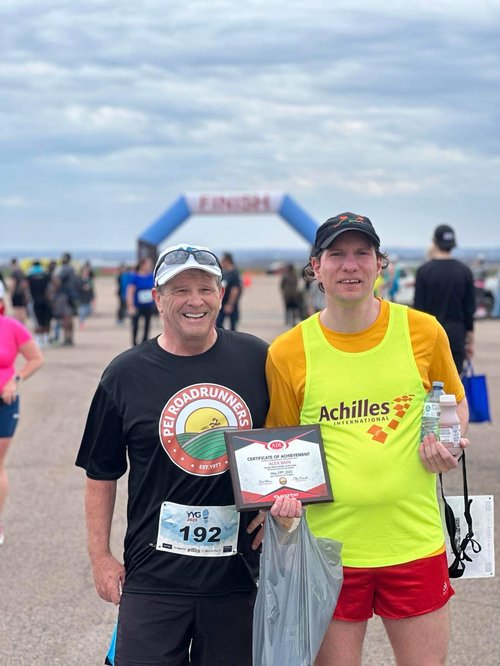 As is often the case no one attended more events than Alex in 2022. Alex participated in 14 Point Series Events, finishing as a top 5 Roadrunner 12 times . He was the top Roadrunner in the Somerset Festival run, the Dunk River Run and the Shipwrights Inn half marathon. Alex accumulated the most Hashems Series points (256), male or female, in 2022.
Alex  attends as many events as possible dating back to 2004 when his high school teacher, former Roadrunner Peter Meggs introduced him to Roadrunner events starting with Proudes Shoes  . Alex and his yellow Running for Autism T-shirt are among the most recognizable fixtures at a Roadrunner event.This is well earned recognition for Alex as he quietly and efficiently covers the roadways of PEI in his distinctive t-shirt each year.
Congratulations to you Alex. We look forward to seeing you at numerous events in the years to come.
Apart from recognizing Alex , the Board wishes to recognize his brother Ben and the Roadrunner community who continue to ensure Alex has transportation to and from the events.
There are no comments yet.
Log in to comment